1

view

By Uber Energy
BARGERSVILLE, Ind. —- Recently, the Bargersville Police Department received a new electric patrol vehicle that was turning the heads of the country. The Chief of Police, Todd Bertram, was the lucky one to receive a Police Edition Tesla Model 3.
Switching over his gas patrol vehicle to an all-electric vehicle was a big change for the Bargersville Police Department. There was still one issue that needed to be determined. How would he charge his Police Edtion Tesla Model 3? This is when Todd came to Uber Energy.
Uber Energy Installs Bargersville Police Department Tesla Chargers
Todd, reached out to Paul Hoopengarner, President of Uber Energy, asking him what the best way is to charge his Tesla Model 3. Paul recommended the Bargersville Police Station to receive a Tesla Wall Connector. The Tesla Wall Connector is a Level 2 Charger which allows the Model 3 to charge at a moderately fast rate.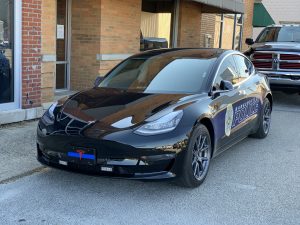 Uber energy, (located in Indianapolis, Indiana) then proceeded to complete the installation of a Black Tesla Wall Connector outside of the Bargersville Police Station.
Todd is very happy with charging his Police Edition Tesla Model 3. When he is busy working at the station, Todd plugs-in his Model 3 and doesn't have to worry about not having a charge. Many Police Departments across the country are calling Todd asking how a Tesla performs as a police vehicle. Bargersville plans to purchase more Tesla Model 3's and convert them into police vehicles. We will be installing all the needed Tesla Wall Connectors for these vehicles.
Want an Uber Energy Car Charger Installation?
Uber Energy offers DC Fast Charging, Level 2 Charging, and Home charging stations all across the Midwest. We are a Professional Car Charging Installation service recommended by Tesla and many others. We have completed over 1600 installations! If you are interested, click here for a FAST Online Quote!